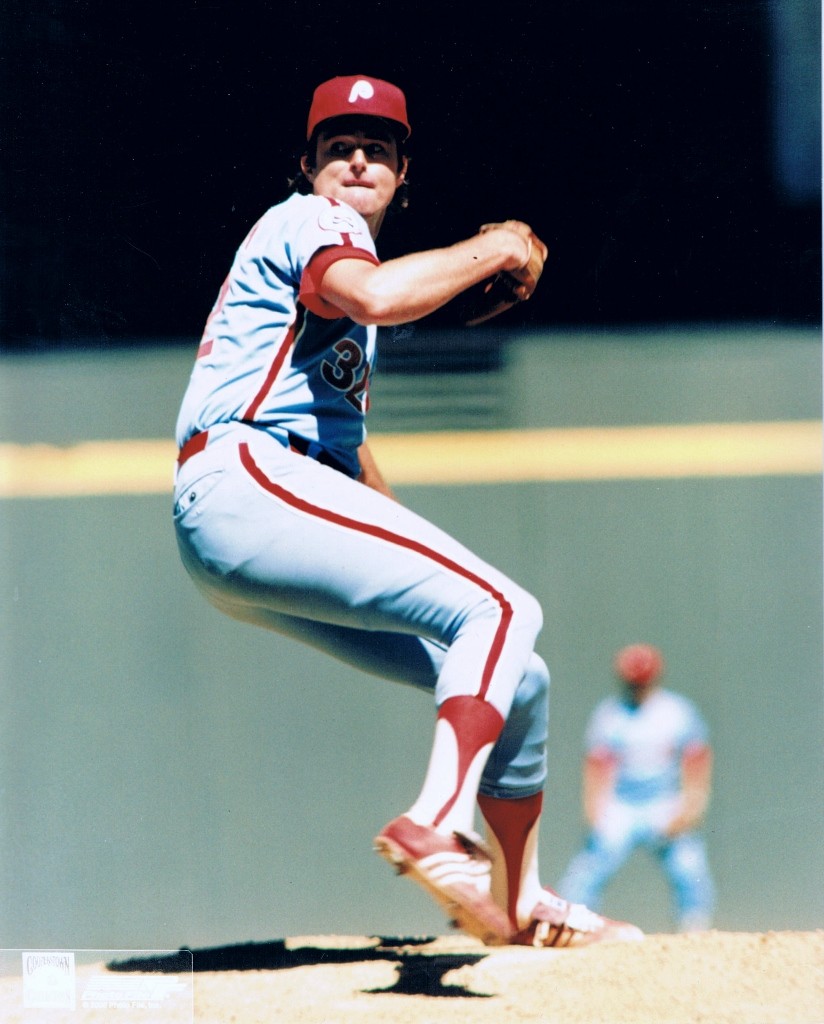 MVP Steve Carlton
The Philadelphia Phillies rolled to a 4-0 sweep of the New York Yankees to capture the 1980 World Series Crown. It is the second title for the Phillies in just 5 short years. Philadelphia defeated the Yankees, 4-1, back in 1976. World Series MVP Steve Carlton
Game 1:
New York 3
Philadelphia 4
11 innings
The underdog Yankees jumped out to a quick 3-1 lead after 2 innings to give the Bronx Bombers a quick ray of hope. Willie Randolph would hit the only homer of the game, a solo shot, in the 2nd inning to propel the Yanks to the early advantage. However, it would be the last runs the Yanks would score in the game as Phillies Steve Carlton would buckle down to handcuff New York the rest of the way out. Carlton would strike out 9 batters in 7.1 innings before handing it over to bullpen. Tug McGraw would then do yeomen's work throwing 3.2 innings of shutout baseball (including 5 K's of his own) to grab the win. It took Philadelphia 6 innings before they would knot the game off a RBI double by Greg Luzinski and 11 innings to capture the win. A two out triple by Del Unser, in the bottom of the 11th would set up a wild pitch by Goose Gossage, scoring Unser, for the game winner.
SERIES Philadelphia 1 New York 0
=============
Game 2:
New York 3
Philadelphia 4
A 3 run 6th inning surge by the Yankees, giving New York a 3-2 lead going into the stretch, seemed to give Yankee fans hope of a series tie. But a run in the 8th and a run in the 9th would lockout game 2 for Philadelphia. A 9th inning solo shot homer by Bob Boone would end Yankee hopes of capturing their first series win. Boone's homer was his only hit of the game but would be enough to earn him game MVP honors.
SERIES Philadelphia 2 New York 0
=============
Game 3:
Philadelphia 6
New York 3
Yankees jump out to an early lead, again, off of home runs by Reggie Jackson and Jim Spencer. But the 3-0 edge evaporated quickly as Philadelphia put up 4 runs in the 4th inning to grab the lead. The Phillies never looked back from there rolling out 2 more runs to capture game 3 6-3. Philadelphia bats rocked out 11 hits in the win.
SERIES Philadelphia 3 New York 0
=============
Game 4:
Philadelphia 5
New York 2
Steve Carlton would throw another gem of a game dashing any hopes of a Yankee comeback. Carlton would go the distance striking out 6 Yankee batters en route to his game and series MVP honors. With the score knotted at 2-2 in the 8th inning, New York would again have another late inning let down. With two outs in the bottom of the 8th inning two Yankee errors would eventually lead to 3 Phillie runs. The defensive collapse by the Yanks would eventually lead to the final nail in the coffin for New York as Philadelphia would go on to capture the series with a 5-2 win and a series sweep.
SERIES: Philadelphia 4 New York 0